Team members from JASCO 's global locations joined millions of people worldwide in climate action demonstrations and marches through cities and smaller communities. As the Climate Strike date of 27 September, 11 a.m. swept around the globe, JASCO staff took to the streets to express their concern for the planet and demand for better policies to protect it.
Colleagues from the Dartmouth, Nova Scotia office in Atlantic Canada added their voices to those of over 10,000 other citizens in a march that began in Halifax's Victoria Park and proceeded eastward, with demonstrators surrounding the Nova Scotia Power building on Lower Water Street. The march continued into the downtown area, passing Government House and ending at Grand Parade in front of City Hall. The marchers chanted and carried signs that said things like "There is no Planet B", "The sea is rising, and so are we", and "Act Now".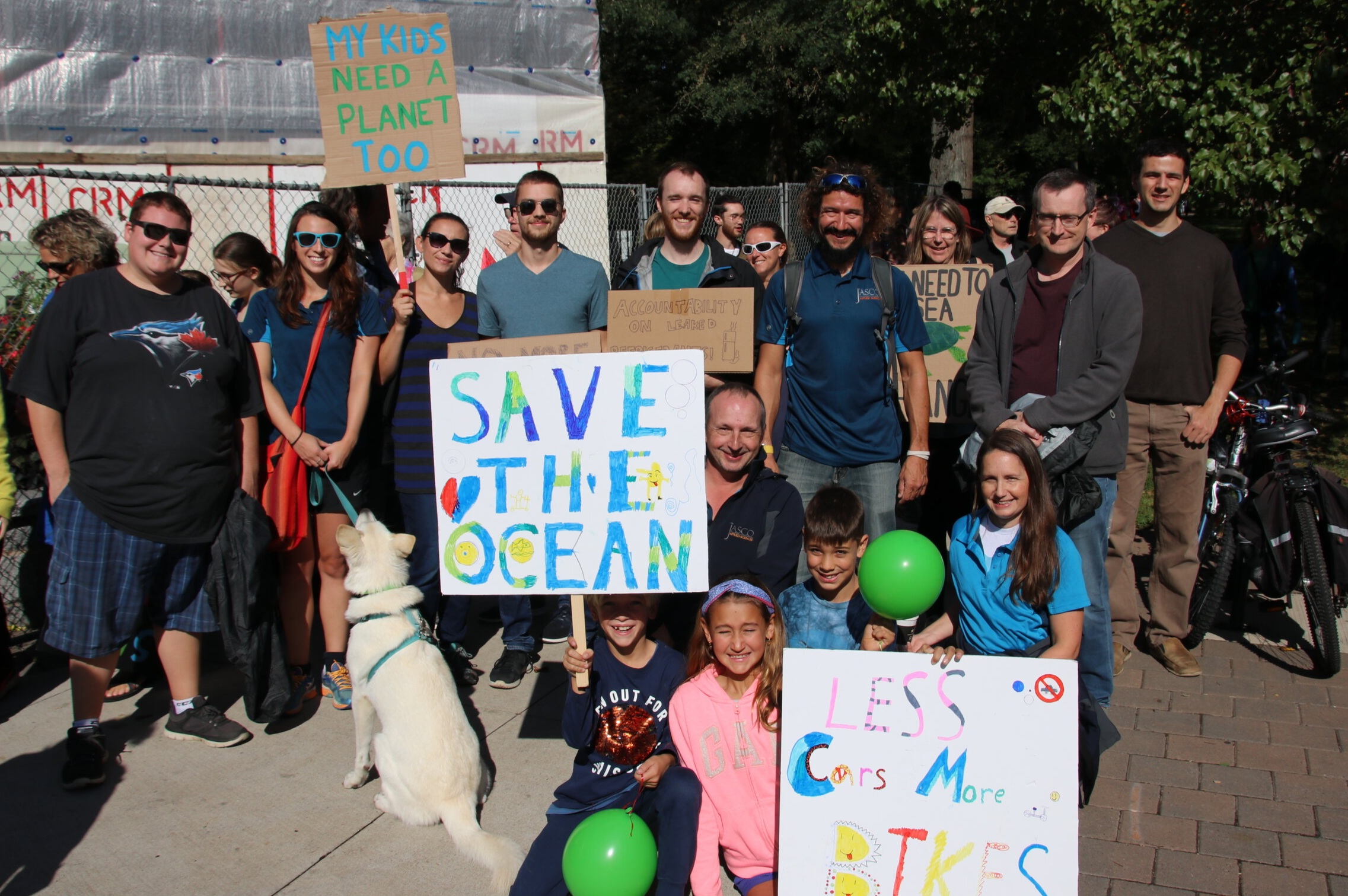 At the Pacific end of Canada, members of the Victoria, British Columbia office converged to the lawn of the Parliament Buildings by means that included e-bicycles and an electric auto to join an estimated 20,000 people, a crowd comparable in size to those attending the annual Canada Day celebrations. The demonstrators marched along the Inner Harbour and filled several blocks of one of the city's major arteries, chanting, wielding signs and listening to speakers ranging from indigenous leaders to youth activists.
In The Hague, Netherlands, the one JASCO scientist based in that city helped swell to a reported 25,000 the number of people demonstrating their concern and advocating a cleaner future in slogans and signs as the marching crowd grew to such size that the police had to reroute its path to wider streets.
Even the JASCO UK office in the small community of Droxford, far from the tens of thousands marching in London some 100 km to the north-east, joined the global movement in a small local demonstration commensurate with the setting.
The JASCO groups at the various urban events were uniformly surprised, as were public officials and the organizers themselves, by the sheer number of people that came out, including students, parents, children, infants, and seniors. Such widespread backing for better environmental policies and practices, which will require tough personal and public choices to be made if they are to have a positive effect, instilled a cautiously hopeful feeling in all who took part. And after the dire predictions in the United in Science report released on 22 September by the Science Advisory Group to UN Climate Action Summit 2019, a glimmer of hope is more than welcome.